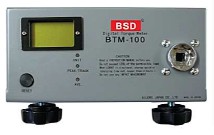 Torque Meter (BTM-10, BTM-100)
For electric screwdriver torque setup and calibration studies.
Quickly, easily and precisely for torque management of screwdriver.
Display maximum and minimum value from data base, together with auto calculation of average.
Automatic turn off for power saving and smart recharge control to prevent overcharge.
Coveninet to switch display in 3 units (N.m/kgf.cm/lbf.in) with one button operation.
Click here for more information.